European Merchant Bank, which holds a specialized banking license and has been operating in Lithuania since late 2019, has ended the third quarter of 2021 with a record size of loan portfolio.
In September 2021, EMBank's accumulated loan portfolio reached 29,7 mln. EUR with a 48% increase over the second quarter of 2021 (20,0 mln. EUR). The total loan portfolio has more than doubled when compared to the first quarter of 2021 (12 mln. EUR). Also in the third quarter, the total assets of the European Merchant Bank reached 85.5 mln. EUR.
According to the CEO of the European Merchant Bank Sarp Demiray, the growth in EMBank lending was driven by several key factors. "In 2021 Q3, Lithuanian economy demonstrated strong results, with GDP increasing by 6% compared to the corresponding period of 2020. Lithuanian economic growth was well balanced and driven by both export-oriented sectors such as manufacturing, transport and logistics, but also by domestically-oriented sectors such as retail trade, construction and real estate activities. These numbers correspond very well with the growth in our portfolio – as domestic and foreign consumption grew, we felt increased demand for financing among the mentioned sectors of Lithuanian economy, which we were able to satisfy",- said Mr. Demiray.
At the end of the third quarter of 2021, the sectoral structure of the European Merchant Bank loan portfolio was dominated by real estate (27% share in total loan portfolio), manufacturing (27%), transport and storage (16%), wholesale and retail trade (7%) sectors. EMBank CEO added that the growth of lending portfolio was also supported by such aspects as growing its brand awareness among Lithuanian businesses, which is driven by new partnerships with business associations and loan campaigns that were launched during the summer period.
The CEO of European Merchant Bank Mr. Sarp Demiray added that as of today the European Merchant Bank mostly provided 2 types of financing services to businesses but is planning to expand financing services in the near future. "Currently we mostly provide working capital loans and investment loans to our clients in Lithuania, which, again corresponds well with the current economic climate. First – we feel that Lithuanian companies continue to invest into expansion, which we are able to support with investment loans. Secondly – as the prices of different commodities and energy products increase, Lithuanian companies are interested in obtaining working capital financing from us.
However, soon we are planning to expand our services by offering leasing and various payment services to our clients in Lithuania. We also plan to expand into other economic sectors – at the moment European Merchant Bank sees strong potential in the renewable energy, food and agriculture sectors. I believe that we have the right financing options for these sectors",- Mr. Demiray explained.
The head of the EMBank predicts that at the end of 2021 Bank's loan portfolio will increase to around 37 mln. EUR, driven by the continuous expansion of the economy, growing client base, active partnerships with Lithuanian business associations and references provided by the existing clients. In addition to this, EMBank has relaunched the small loan campaign, which is oriented towards the newly-established small businesses and has received several inquiries from Lithuanian SME companies through the bank's website. "In the segment of newly-established small businesses, we observe very strong demand for loans without collateral. In this regard, we plan to allocate part of our portfolio to such companies – we will also use more suitable set of criteria to evaluate the newly-established companies.
Actually, this is also the niche where the Lithuanian public sector could step in through partnerships with financial institutions. As we talk to Lithuanian companies of different sizes, I understand that lack of collateral is probably the major problem for Lithuanian companies to obtain financing, especially in the micro and SME segments. EMBank would be happy to participate in these kinds of government programs if such programs were to be implemented by the government and public agencies",- said S. Demiray.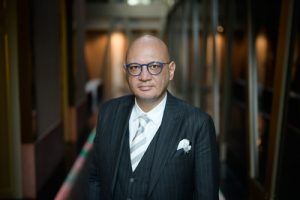 In the third quarter of 2021, European Merchant Bank became profitable for the first time since the start of its operations in Lithuania which began in late 2019, which was driven by a rising lending portfolio and a sharp increase in the non-interest income. Ekmel Cilingir, Chairman of the Board at the European Merchant Bank said "The fact that European Merchant Bank became profitable shows that we are on a good path. The Bank will continue to invest in the expansion of its business in order to realize its ambitions. Our fundamental goal is to support the underfunded Lithuanian SMEs, and we strongly believe that the specialized banking license will help us achieve this ambition and support the Lithuanian economy".